Hyderabad Team Probables–

BCCI Senior Women's One-Day Tournament
| | |
| --- | --- |
| The following players have been selected for Hyderabad Senior Women's team to Participate in BCCI Senior Women's One Day Tournament to be held at Bangalore from 23rd Oct 2021. | |
| | |
| --- | --- |
| The President and Apex Council of HCA condones the passing away of Mr. Jagan Mohan Rao, Secretary of Karimnagar District Cricket Association | |
INTERNAL HCA TOURNAMENTS - 2021-22
| | |
| --- | --- |
| HCA A-1 DIVISION 3-DAYS LEAGUE CHAMPIONSHIP 2021-22 (90-90 & 40-40 overs format) | |
| | |
| --- | --- |
| HCA A-2 DIVISION 2-DAYS LEAGUE CHAMPIONSHIP 2021-22 (Single Innings per side 90 overs Format) | |
| | |
| --- | --- |
| HCA NAWAB M A K PATAUDI T20 TIGER CUP 2021-22 | |
| | |
| --- | --- |
| HCA OVERALL INTERNAL MATCHES INFORMATION AT ALL TOURNAMENTS | |
| | |
| --- | --- |
| To view the tournaments of 2020-21 | |
HYDERABAD TEAM AT BCCI TOURNAMENTS - 2021-22
| | |
| --- | --- |
| HYDERABAD TEAM FOR VINOO MANKAD TROPHY - 2021-22 | |
HYDERABAD TEAM - VINOO MANKAD TROPHY 2021-22 -

Elite Group C

Date

Versus

Match Result

Score Card

28 Sep 2021

Tripura

Hyderabad won by 9 Wkts
Hyderabad-04, Tripura -00

29 Sep 2021

Rajasthan

Hyderabad won by 3 wkts
Hyderabad-04, Rajasthan-00

Goa

Hyderabad Won by 81 Runs
Hyderabad-04, Goa-00

02 Oct 2021

Assam

Hyderabad Won by 67 Runs
Hyderabad-04, Assam-00

Mumbai

Mumbai Won by 57 Runs
Hyderabad-00, Mumbai-04

14 Oct 2021

UP

Hyderabad Won by 5 wkts
Qualified for Semi-final

16 Oct 2021

Maharashtra

Maharashtra Won by 34 Runs
Hyderabad lost SF-2

Standings ( Points Table) leading Table with 16 pts.

PLAYERS PERFORMANCE (BATTING)

PLAYERS PERFORMANCE (BOWLING)
| | |
| --- | --- |
| HYDERABAD WOMENS UNDER-19 FOR BCCI UNDER-19 WOMENS ONE DAY TOURNAMENT 2021-22 | |
HYDERABAD TEAM -BCCI UNDER-19 WOMENS OD TOURNAMENT 2021-22-

Elite Group A

Date

Versus

Match Result

Score Card

30 Sep 2021

Gujarat

Match Abandoned
Hyderabad-02, Gujatat -02

01 Oct 2021

Mumbai

Mumbai Won by 20 Runs
Hyderabad-00, Mumbai -04

Assam

Hyderabad Won by 8 wkts
Hyderabad-04, Assam -04

03 Oct 2021

UP

Hyderabad Won by 7 wkts
Hyderabad-04, UP -04

Vidharba

Hyderabad Won by 8 wkts
Hyderabad-04, Vidharba -04

13 Oct 2021

Andhra

Andhra Won by 6 Runs
Hyderabad-lost in QF-1

Standings ( Points Table) leading Table with 14 pts.

PLAYERS PERFORMANCE (BATTING)

PLAYERS PERFORMANCE (BOWLING)
PREPERATORY CAMP OF UNDER-19 BOYS

As you are aware that the BCCI Under-19 Men's Vinoo Mankad Trophy 2021-22 is to commence shortly. The Hyderabad Cricket Association is having an Under-19 Camp at Rajiv Gandhi International Cricket Stadium,Uppal.
The players were guided by Selectors, Coaches, Support Staff. Hon President -HCA visited the camp and shared his experience with the players. Attached are some pictures of the Preparatory camp for reference.

HCA 12/09/2021
'Independence Day' Celebrations of Hyderabad Cricket
Association are to be conducted at RGICS, Uppal and the flag hoisting ceremony is done by the Apex Council of HCA at 10.00 a.m. In view of the above, all the Secretaries of Clubs are invited and requested to make it convenient to be present
by 9:45 a.m. on 15.08.2021.

Hon Secretary 14/08/2021
HCA NEWS

Sri V. Srinivas Goud, Hon'ble Minister for Prohibition & Excise, Sports & Youth Services, Tourism & Culture & Archaeology, and Government of Telangana inaugurated the Free Vaccination Camp organized by the HCA with the assistance of Director of Public Health, Sri. G. Srinivas Rao, for the benefit of Players, Coaches, Support Staff, Club Members, Staff and Employees and others associated with the Association. The Hon. Minister inaugurated the initiative and also took a quick tour of the ground and addressed media briefly. The Secretary and other office bearers of the HCA were present and later felicitated the Hon. Minister. The Vaccination drive is being carried out smoothly and will continue tomorrow, 29th June, also.
APEX COUNCIL - HCA : 28-06-2021

HCA'S RGICS IS APPROVED TO BE ONE OF THE PREFERRED VENUES FOR THE UPCOMING ICC T20 WORLD-CUP TO BE HELD IN OCTOBER-NOVEMBER 2021 AS A RESULT OF SUCCESSFUL LOBBYING BY THE APEX COUNCIL OF HCA.
APEX COUNCIL - HCA : 18-04-2021

HCA - FUND FLOW STATEMENT (RECEIPTS AND PAYMENTS
ACCOUNTS) FROM 01-05-2020 TO 31-07-2020
INFRA Maintenance (RGICS) & Improvements 2020-21
Hon Sec. (10-11-2020)
RELIEF FUNDS HCA OFFICIALS (UMPIRES AND SCORERS)

As you are aware that World is going through tough time due to spread of Novel Covid -19 Virus, We Hyderabad Cricket Association needs to take care of our OFFICIALS - Umpires & Scorers who have been giving their services to our Association from long time, some of our Officials who are dependent on HCA for a livelihood needs our support in this time of crisis.
HCA have released a amount of Rs. 3000/- to each individual Umpires & Scorers who are totally dependent on HCA.
Hon.Sec (11-11-2020)
NOTICE
REF: COA MEETING HELD IN January 2019
During the review meeting conducted by COA in the month of January 2019 it was observed that there were lot of advance pending with Managers and Club Secretaries ( as brought out by Auditors and Accounts Dept). Such pending advances as on 23.07.2019 are around Rs.24.00 Lakhs. Advances pertaining to the period prior to 31.03.2018 are around Rs.19.00 Lakhs. The lists(two nos) having details of Name, Advance pending, since when pending, purpose of advance are attached below.

As HCA could not realize in spite of their best efforts,the COA calls upon all these individuals to settle the advances on or before Monday 5th August 2019 failing which we will be constrained to take action as may be necessary for recovery and report the same to the Ombudsman for further action.

Justice(retd) Anil Dave
Justice (retd) G V Seethapathy
Prof. Ratnakar Shetty
COA, HCA (27-07-2019)

Advances against Expenses to Individuals pending closure (LIST)
Advances against Expenses to Managers pending closure (LIST)
ONLINE REGISTRATION OF PLAYERS (Men and Women) for BCCI domestic season 2019-20

Registration of all players must be uploaded to https://bcciodms.com. The Process will commence from 10:00 am of 01-08-2019. The guidlines will be available on the web-page.

for More information
| | |
| --- | --- |
| AMENDMENTS IN THE BY-LAWS OF HYDERABAD CRICKET ASSOCIATION: DECEMBER 2018 | |
| | |
| --- | --- |
| NEW MEMORANDUM OF ASSOCIATION OF HYDERABAD CRICKET ASSOCIATION REGISTERED ON 22-09-2018. | |
BCCI NOTIFICATIONS W.R.T the
Indian Cricketers' Association (the "ICA")
Membership Application Process for Indian Cricketers' Association (ICA)

BCCI Notice to all its Member/State Associations in relation to Recognition of Indian Cricketers' Association (ICA) and its State Chapters

BCCI Recognition letter of the Indian Cricketers' Association (ICA)

DIRECTIONS ISSUED BY THE COMMITTEE OF ADMINISTRATORS (COA) BCCI w.r.t GRANT OF MEMBERSHIP IN THE STATE ASSOCIATIONS.

---
ADHOC SENIOR SELECTION COMMITTEE 2021-22 SEASON

The HCA (Hyderabad Cricket Association) nominated the following persons as Adhoc Senior Selection Committee for Syed Mustaq ALi T- 20 Tournament.

1. Ahmed Quadri
2. Zakir Hussian
3. Faiz Ahmed
4. Amol Shinde
5. Alfred Absolom
Hon. President (11-10-2021)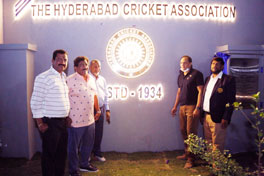 LOGO IN 3D WAS UNVEILED AT HCA GATE-1

We are happy to inform you that the Hyderabad Cricket Association has unveiled 3D logo at Gate No-01 of the Rajiv Gandhi International Cricket Stadium, Uppal on Sunday the 21st of March 2021. Mohammed Azharuddin, Hon. President HCA did the honours..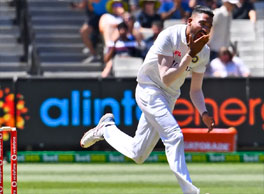 HCA CONGRATULATES MOHAMMED SIRAJ ON HIS TEST DEBUT FOR INDIA AT MCG AGAINST AUSTRALIA
MAIDEN PERFORMANCE:
I INNINGS: O-15 | M-4 | R-40 | Wkts-2
(economy-2.66 dots-69)
II INNINGS: O-21.3 | M-4 | R-37 | Wkts-3
(economy-1.72 dots-110)
FIRST 5 WKT HAUL:
II INNINGS: O-19.5 | M-5 | R-73 | Wkts-5
(economy-3.68 dots-91)
This performance came in the II innings of India v Australia, 4th Test Match at GABBA 2020-21 Series.

This led to India's First Test Victory at GABBA, a historic win that clinched the 2020-21 Test Series against Australia in Australia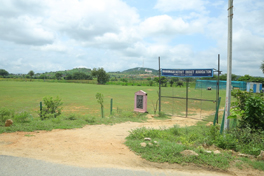 CRICKET GROUND AT MAHBOOBNAGAR AT TELANGANA OWNED BY HCA & AFFILIATE ASSOCIATIONS
Apex Council is planning the development of cricket grounds owned it and its affiliated Association in Districts of Mahboobnagar and Nizambad. The plan is to build pavalion, turf wickets and better practice facilities for impovement of the game at District level.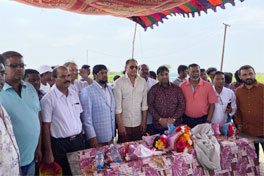 MINI STADIUM PLAN AT NIZAMBAD, TELANGANA
On 17-March-2020, All the Apex Council Members visited Nizamabad District to Inspect the land and plan to build a Mini Stadium. The Members President Mohammed Azaharuddin, Hon. Secretary Mr. Vijayanand, Vice- President Mr. John Manoj, Treasurer Mr. Surender Agarwal visited the site.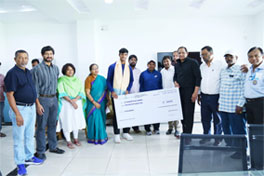 Hyderabad U-19 Player N THAKUR TILAK VERMA has been selected in the INDIA UNDER-19 squad that will play in the 2020 ICC Under-19 Cricket World Cup at South Africa from 17 January to 9 February 2020.
The Apex Council of HCA while congratulating him on his selection in the India Under-19 World Cup Squad also announced an award of rupees one lakh and one rupee in his favour.